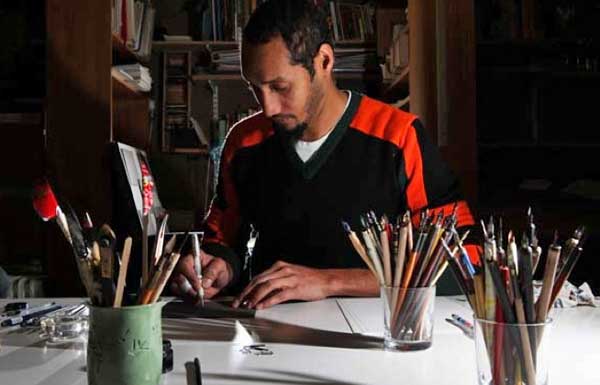 Paul Antonio организовал свою студию в Лондоне. За каллиграфическими надписями к нему обращаются такие солидные клиенты, как Tiffany & Co, Ralph Lauren и Louis Vuitton. Еще, к примеру, он подписывал пригласительные на церемонию награждения BAFTA в этом году. Рабочие будни его студии очень подробно описаны в блоге paulantonioscribe.blogspot.com. Персональный сайт paulantonioscribe.com в стадии разработки, но оттуда можно скачать образцы почерка, которые они предлагают для различных работ.
…
Интересно почитать два его интервью, размещенные в сети. Здесь я приведу небольшие отрывки из них в свободном переводе. Первая часть из интервью для газеты Guardian:
Вы бы посоветовали кому-либо делать карьеру каллиграфа?
Профессиональным каллиграфом стать очень сложно. Это требует многолетней самоотдачи и не приносит денег, пока вы не достигнете должного мастерства. Кроме того, этому непросто научиться, так как недостаточно набить руку в чем-то одном – нужно осваивать несколько стилей. Вам нужно не только уметь делать самые разные надписи, но и иметь дело с клиентами, убеждая их, что это именно то, что им нужно. Недостаточно разбираться только в искусстве или только в бизнесе – нужно быть асом в обеих сферах, если вы хотите зарабатывать на жизнь. Каллиграфия – это не то, что дается легко. Она требует времени, терпения, преданности и самосовершенствования.
Но это прибыльно?
Только последние три года я зарабатываю на достойную жизнь каллиграфией. Но вот вопрос: что считать прибылью? Тут смысл не только в зарабатывании денег – речь идет о твоем месте в международном сообществе единомышленников. Приобретение опыта, самосовершенствование, повышение мастерства – твое настоящее личное богатство. Зарабатывание денег связано со стрессом, и иногда нужно принимать решение: а действительно ли нужна дополнительная нагрузка? Это хитрый вопрос. Тратить время на заработок или на повышение мастерства? Один путь приносит материальные ценности, другой – ценности личные.
Полностью это интервью можно прочитать на сайте guardian.co.tt. А на guardian.co.uk можно посмотреть небольшое видео о его работе.
…
Далее небольшая часть из интервью для сайта www.youngcreativecouncil.com. В разделе Weekly Score можно прочитать его полную версию.
Вы владеете различными стилями каллиграфии. Могли бы вы немного рассказать об инструментах и о том, как вы их освоили?
Есть две основные категории инструментов для формальной каллиграфии – ширококонечные и остроконечные перья. Они создают очень разные по стилю линии, но когда используются вместе, это может вызвать улыбку. Ежедневная практика необходима, но также нужно наблюдать, поправлять и делать заметки в процессе работы. У меня под рукой всегда есть лист бумаги, и когда получается интересный росчерк или форма, я сохраняю его для дальнейших работ. Вам нужно постоянно думать о леттеринге, буквах – дотянуть до верхней линии, достичь нижней, сохранять ширину букв. Нужна концентрация. И нужно уметь почувствовать, когда требуется сменить инструмент.
Совершенство приходит с практикой?
Ничуть! Только практикой совершенства никогда не добьешься. Мысленная практика делает работу совершенной. Размышления о том, что вы делаете, о вашей позе, чернилах, ощущениях от бумаги, о том, как вы пишете букву, постоянный контроль – а правильно ли я это делаю? Нужно замечать все неточности, корректировать их и запоминать эти правки. Результат такой концентрации – точные и красивые буквы.
Кроме этого, Paul Antonio можно найти на YouTube - PaulAntonioScribe
его фотогалерея - flickr.com/photos/paulantonioscribe/
И пост – видеообзор инструментов каллиграфии на этом сайте.
—————————————————–
Оригиналы переведенных выше интервью:
Interesting excerpt from article by MALISSA LARA in guardian.co.tt:
Would you advise others to make a career of calligraphy?
It is very difficult to become a professional calligrapher. It requires years of dedication, and not making any money while you come to terms with your skill. It is also not easy to train as there are so few courses running. Getting a good hand is one thing but it is getting it consistent all the time that is the trick. You not only need to know what you do inside out—as you will get asked to write on all kinds of things, but you need to be able to deal with people and convince them that you are what they need! Invariably it is either you are good at art or good at business but you have to be good at both if you want to make a decent living. It is not something that happens easily. It takes time, patience, dedication, application and research.
Is it lucrative?
It is only in the past three years I have been earning a decent living. But what is lucrative? It is not only about making money—it is also about the standing amongst your peers on an international stage. It is about contributing to the corpus of knowledge in one's field of expertise. But then there is personal wealth. Making money comes with much stress and sometimes you need to make a decision if you actually want the added stress. That is a tricky question to answer. A lot of the time making money and earning a living is to the exclusion of research—but one is financially lucrative and one is personally lucrative.
Read full article here
…
Excerpt from interview with Paul Antonio on youngcreativecouncil.wordpress.com
YCC: You have many different and varied styles. Could you show us or tell us about your tools and how you mastered them?
There are 2 major tool categories for formal calligraphy, square-edged nibs and pointed nib. The both produce very different looks but when used together can really put a smile on one's face. Practice is a daily thing but also looking, correcting and making notes when working on a job. I have a piece of paper next to me and when I make a mark that I like, I make a note of it so I can look at it later, with a red pen in hand. It is not only about the tool, you have to keep thinking about the lettering, constantly – hit the top line, hit the bottom line, keep the letters narrow. There is an obscene amount of concentration needed. You also have to be able to feel when the tool needs changing, or it really seems like hard work.
YCC: Is it a case of practice makes perfect with each piece that you create?
No! Practice never makes perfect. It is intelligent practice, which makes perfect. Thinking about what one is doing, your posture, the ink, the feel of the paper, how you are making the letter, constantly thinking, did I do that correctly? When it comes to that letter I must make a mental note to correct that, and keep correcting it. It can be quite draining but the result of that kind of constant talking to yourself in your head is what makes such accurate but beautiful letters.
Read full article here